Cancellation Policy
Subscriptions to New York Magazine may be canceled at any time. You may cancel your subscription through the account page following the instructions below. If you do not see the option to cancel your subscription directly on the account page, please request a cancelation through our help desk.
If you have a Print Only Subscription & do not see the option to cancel from your account profile, please use this print portal to cancel.
Cancel Subscription Online:
Visit

nymag.com/account

.

Log in to your account with your email address and password or with your Facebook or Google authentication preference.

Navigate to the Subscription & Billing section of your account.

At the bottom of Billing Information, you may click "Cancel Subscription" to initiate your cancelation.

Please enter a cancelation reason first, in order to complete and confirm your cancelation.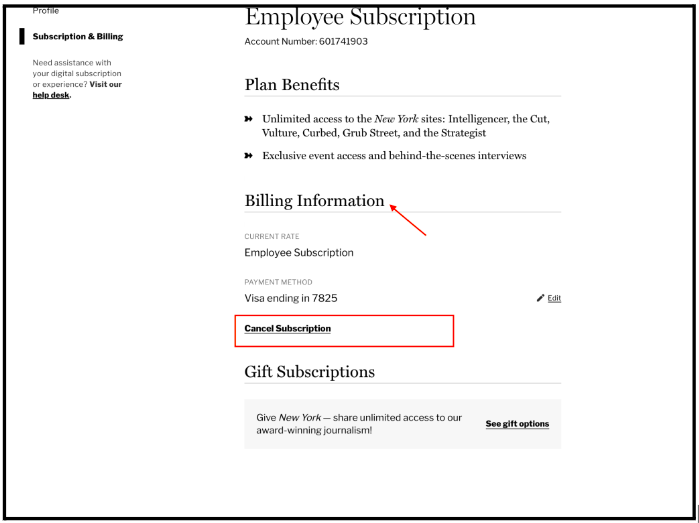 Digital Subscriptions
Subscribers on a digital-only subscription (billed monthly or annually) will maintain digital access until the end of their current billing cycle. The subscription will not automatically renew, and digital access will expire on the last day of the monthly or annual plan. To cancel your digital access at the time of cancelation or request a refund, see our refunds policies.
Print + Digital Subscriptions
Subscribers to Print + Digital Access will lose digital access immediately on the day of their cancellation. Print subscribers may receive up to 2-3 issues of the magazine after cancelation due to USPS processing. You will not be charged for these deliveries. After your request has been processed- either online or through our help desk- you will receive an automatic notice via email confirming your cancellation. Once the cancelation has processed and/or the end of the current billing cycle has passed, your digital access will be revoked. You will still be able to access a limited number of articles for free each month.
Cancel Subscription With Customer Support
If you do not see the option to cancel your subscription on your account page, you may send a request to cancel here. Please include your full name and/or your email address and account number when sending your request.